Pet Friendly Cape Cod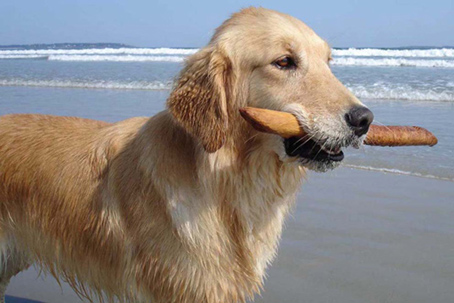 There is no need to leave your best friend at home. Take them with you to pet friendly Cape Cod. Each year, more and more places to stay are opening up their doors to well behaved pets (like me). Visit the pet friendly lodging Cape Cod page for more info.
By the way, that's me in the picture. My name is Enid and I love pet friendly Cape Cod.
There are lots of Cape Cod pet friendly campgrounds, beaches and parks for you and your Cape Cod pet to enjoy.
Please be aware that even though some beaches allow dogs, you should be careful that we don't get sun stroke or dehydration. Make sure you bring along lots of fresh, cool water and an umbrella or sun shade so we can escape the sun. (A treat or 2 would be nice also.)
Your pet's health is just as important as yours. You don't like getting sick while on vacation do you? Well, neither do I. Hopefully I won't need vet services but you should always be prepared so Also visit the vet services page to find a vet closest to where you will be vacationing on the Cape.
Make sure you bring along baggies to "scoop the poop". (I would do it myself but I have no thumbs). Nothing ruins a nice day at the beach like stepping in dog poo so keep pet friendly Cape Cod tidy.

If your dog is like me, they love the water! Pet friendly Cape Cod is perfect for canine swimmers. We can swim in the shallow Cape Cod Bay waters or brave the surf on the outer Cape's beaches. Or maybe a fresh water lake instead?
No matter which one you choose, your pet will have tons of fun getting their paws wet. They are also guaranteed to get really tired so don't overdo it!
Visit the Cape Cod pet friendly beaches page.

If you are looking for some canine companionship for your pet, take them to a Cape Cod Dog Park. It will give us time to socialize and mingle with other dogs.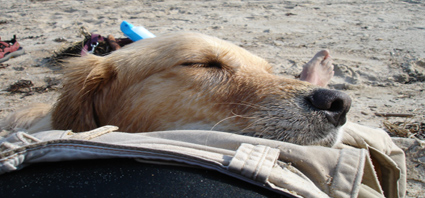 At the end of the perfect beach day, why not take your pet for a little "retail therapy"? We love when you shop for us so be sure to visit the Pet Specialty Stores Page for some great pet friendly Cape Cod boutiques and toy stores.
Pet friendly Cape Cod is great for finding that perfect new chew toy or maybe some gourmet baked treats - Yum!
So you see, you can bring your pet with you to pet friendly Cape Cod. We really appreciate the quality time spent with our masters and we will love getting out of town to go on vacation too.


Oh, I almost forgot. My parents wanted me to warn you about ticks and Lyme disease. One year, I picked up a tick on my neck (gross!) and my parents had to save it to have it tested for Lyme disease. It didn't have it but they wanted to be careful because Cape Cod has a high rate of Lyme disease.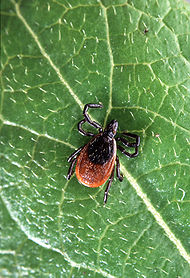 Lyme disease can affect individual pets differently. Some animals may display no symptoms. Other animals may develop fever, loss of appetite, painful joints, lethargy, and vomiting.
If left untreated, the spirochete may damage the eyes, heart, kidneys, and nervous system. Lyme disease has been diagnosed in humans, dogs, cats, horses, goats, and cattle. Other species may also be at risk.
Cats
Cats may show lameness, fever, loss of appetite, fatigue, eye damage, unusual breathing, or heart involvement. Many cats do not show noticeable symptoms, despite being infected.
Dogs
Infected dogs may be lethargic, have a poor/loss of appetite, or a fever (103° - 105 ° F). Dogs may also experience lameness shifting from one joint to another, fatigue, kidney damage or failure, heart disorders, or neurologic involvement (e.g. aggression, confusion, overeating, seizures). Dogs can be infected with the Lyme bacterium but not exhibit any noticeable symptoms.
Protecting your pet
Apply tick-killing chemicals to your animals in order to protect them from disease spreading ticks. Sprays and dips containing permethrins and pyrethrins kill ticks on dogs and cats.
Precautions should be taken when applying insecticides as some animals may be sensitive to the chemicals. Follow the manufacturer's instructions.
It is a good idea to wear rubber gloves during application. Tick collars will help discourage ticks from attaching to your pet. Never apply multiple repellents on your pet. A mixture of different chemicals on your pet could make the animal very sick.
Take precautions to guard against ticks when entering tick habitat, such as grassy, shrubby, wooded, or beach grass areas.
Conduct frequent Tick-Checks! Examine pets closely in order to detect embedded ticks.
Remove attached ticks properly and promptly to reduce the chance of transmission of the LD bacterium. (Place fine point tweezers around the tick's mouthparts (the place where the tick is attached) and gently pull upwards until the tick detaches. Do not use your bare fingers!
Disinfect the bite site and tweezers after removal. Wash your hands. Place the tick, along with several blades of grass, into a small container (e.g. a clean screw-cap pill bottle or a zip-lock bag) for later examination. Call your veterinarian to determine if there is a local place where the tick can be tested. Label the container with: the date, name of pet, type of animal, owner's name, address and phone number.
Have your pet examined as soon as possible if you notice any symptoms of disease; the sooner a disease is diagnosed, the easier it is to treat.
There are vaccines available for dogs so if you plan on being on Cape Cod frequently during the warmer months, it might be a good idea to get your dog vaccinated.



If you are driving to Cape Cod from Canada, please be advised that you will need vaccination papers as well as papers showing ownership of your pet for U.S. Customs. The papers must say that your dog or cat is current on the rabies vaccine. When coming back into Canada, Customs officers will need proof you had your pet with you before entering the U.S. (in case they think you bought them while in the U.S. There is also still a ban on bringing pet food into the U.S. from Canada. Unless the food originated in the U.S., you can't bring it with you. Also, keep it in the original bag with the ingredients--no baggies of food.
For Pet Services and Pet Products on the web
visit here.
Return to Cape Cod Insider Home from Pet Friendly Cape Cod