Nickerson State Park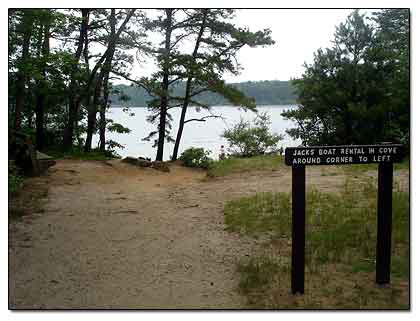 In the heart of Cape Cod, Nickerson State Park`s 1900 acres offers visitors a natural woodland setting and access to the Cape`s many recreation attractions.


The park`s 420 campsites are set in pine and oak forests that slope down to the banks of eight crystal clear fresh water ponds. Yet, if you walk or bicycle through the woods, you will find no rivers or streams feeding the ponds.


These are "kettle ponds," among more than 300 formed as glaciers retreated from the Cape over 10,000 years ago. Completely dependent on groundwater and precipitation, the water level in the ponds fluctuates from season to season.


Paved bicycle trails, freshwater swimming, boating opportunities, and pretty campsites are just some of the reasons that Nickerson State Park is one of the most popular campgrounds in Massachusetts.


An eight mile bike path connects to the 25 mile Cape Cod Rail Trail and is awesome for biking, walking or birdwatching.


This area has great natural scenery, along with a collection of the most diverse tree species on Cape Cod.


You can view pine, fir, spruce and oak, as well as various types of holly and berry bushes.


Wildlife is abundant, with regular sightings of fox, deer, coyote and other common smaller animals. If you are lucky, you'll spot a deer wandering through your campsite in the early morning.


The trail is hilly, winding throughout the perimeter of the park's seven camping areas, as well as around two of the park's five pristine lakes.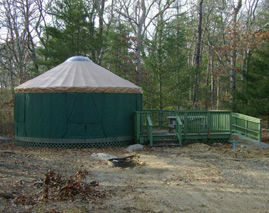 You can also rent a "Yurt," to experience sleeping in a tent/cabin type abode.


These come furnished with bunk beds, a table and chairs.
Customers must provide their own bed linen and utensils. Each yurt has an electricity and water hook-up for modern convenience.


The only equipment that may accompany a yurt is one tent. Pets are prohibited from the yurts and yurt site.


If you want to reserve a camping spot, you can do it between May 21 - Nov 20.


Reservations must be made 1 day(s) ahead of arrival and can be made up to 6 month(s) in advance.


You can reserve only a small handful of sites. Also take note that that parts of the park are closed during certain months while the Park Rangers and volunteers clean-up. After looking over the Nickerson State Park Camping Map , call directly to the reservation hotline at (508)896-3491 to confirm which sites are 'reservable'.


You cannot get accurate distances from looking at the area maps of Nickerson so it is difficult to tell that some of the campsite areas are densely populated. Area 4 is a good bet.


Keep in mind that the park seems to always be full so you cannot just show up looking for a spot. With the economy the way it is, expect more and more vacationers to choose camping as their lodging option of choice.


There is virtually no forest in between the sites in some areas so you have to either buy your firewood or go for drives in your car to looking for wood at non-campsite areas.


Once you do this, you will find a great deal of suitable, dry wood for burning and will save a bundle on the overpriced firewood they sell.


Although you can have campfires, you cannot make your own campfire ring. You must use the campfire pit provided by the park.


To get to Nickerson State park, take Exit 12 Orleans, off of Route 6. Turn left off the ramp onto Rte. 6a West. Follow Rte 6a West 2 miles to Nickerson State Park on the left.


HAPPY CAMPING....


Return to Cape Cod Camping from Nickerson State Park

Return To Cape Cod Insider Home