CRANBERRY RECIPES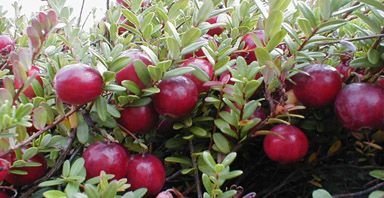 There are tons of great cranberry recipes out there and I've tried them all. I love to bake with cranberries because they give a nice tart, juicy element to any recipe.


Here are a few winners for you to enjoy:


Cape Cod Cranberry Pie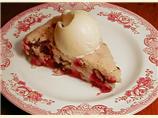 Be daring and try this scrumptious cranberry recipe that is a welcome change from the usual fruit pies.
INGREDIENTS:
* 2 1/2 cups cranberries,fresh or frozen thawed
* 1/2 cup sugar
* 3/4 cup chopped pecans
* 2 eggs
* 1 cup sugar
* 1 cup flour
* 1/2 cup butter, melted
* 1/4 cup shortening, melted


PREPARATION:
1. Grease a 10-inch pie plate.

2. Add cranberries and spread out evenly.

3. Top cranberries with 1/2 cup sugar and pecans.

4. In a mixing bowl, add the eggs.

5. Gradually beat in 1 cup of sugar.

6. Add the flour, butter and shortening, beating until smooth.

7. Pour the batter over the cranberries.

8. Bake at 325 degrees for 1 hour or until the top is golden.

Serve warm with ice cream.



Cranberry Lemon Muffins

As far as muffins go, I always prefer mine with fruit. This cranberry recipe has the added zing of lemon zest.
INGREDIENTS:
* 2 cups all-purpose flour
* 1 cup sugar
* 3 teaspoons baking powder
* 1/2 teaspoon salt
* 2 eggs
* 1 cup milk
* 1/2 cup vegetable oil
* 1 lemon-zested
* 1 cup fresh or frozen cranberries, halved
* 1/3 cup slivered almonds, toasted


PREPARATION:
1. In a large bowl, combine the dry ingredients. In another bowl, beat the eggs, milk, oil and lemon zest. Stir into dry ingredients just until moistened. Fold in cranberries.
2. Fill paper-lined muffin cups two-thirds full; sprinkle with almonds. Bake at 400 degrees F for 18-20 minutes or until a toothpick comes out clean. Cool for 5 minutes before removing from pan to a wire rack.



Cranberry Orange Loaf

You can substitute lemon zest for orange if you prefer for this yummy cranberry recipe.
INGREDIENTS:
*2 cups flour, all-purpose
*1 1/2 teaspoons baking powder
*1/2 teaspoon baking soda
*1/2 teaspoon salt
*1 teaspoon orange zest -- grated
*1 1/2 cups cranberries
*1/2 cup pecans -- coarsely chopped
*1/4 cup margarine -- softened
*1 cup white sugar
*1 large egg
*3/4 cup orange juice


PREPARATION:
1. Preheat the oven to 350 degrees F (175 degrees C).

2. Grease and flour a 9x5 inch loaf pan.

3. Whisk together flour, baking powder, baking soda, and salt.

4. Stir in orange zest, cranberries, and pecans. Set aside.

5. In a large bowl, cream together margarine, sugar, and egg until smooth.

6. Stir in orange juice.

7. Beat in flour mixture until just moistened. Pour into prepared pan.

8. Bake for 1 hour in the preheated oven, or until the bread springs back when lightly touched.

Let stand 10 minutes, then turn out onto a wire rack to cool.



Cranberry Cheesecake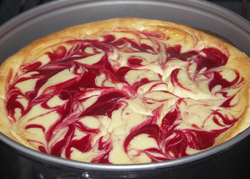 If you've never had cranberry cheesecake, you are missing out! This cranberry recipe is a real eye-catching desert, perfect for a supper party.
INGREDIENTS:
*12 ounces cranberries
*1 1/3 cups sugar
*2 tablespoons sugar
*2 LBS cream cheese --room temp
*2 teaspoons vanilla extract
*4 large eggs --room temp
*1 pint sour cream --room temp


PREPARATION:
1. In a medium nonreactive saucepan, combine the cranberries and 3/4 cup water.

2. Bring to a boil over moderate heat and boil, stirring occasionally until the cranberries burst and the mixture reduces to 1-1/4 cups, about 12 minutes.

3. Remove from the heat and stir in 1/3 cup of the sugar until dissolved.

4. Strain the mixture through a coarse sieve and let the puree cool completely.

5. Preheat the oven to 275 degrees F.

6. Butter and flour a 9-by-2-3/4-inch springform pan.

7. In a large bowl, using an electric mixer, beat the cream cheese with the remaining 1 cup plus 2 tablespoons sugar and the vanilla at low speed until smooth.

8. Beat in the eggs one at a time, beating until just blended.

9. Stir in the sour cream.

10. Spoon half of the cream cheese mixture into the prepared pan.

11. Drop 8 or 9 rounded teaspoons of the cranberry puree randomly over the top.

12. Spoon half of the remaining cheesecake mixture evenly over the first layer and dot with half of the remaining puree.

13. Repeat with the remaining cheesecake mixture and puree.

14. With a butter knife, cut through the batter in a swirling motion to distribute the cranberry puree.

15. Place the pan on a baking sheet and bake in the lower part of the oven for 1 hour.

16. Turn the oven off and leave the cheesecake in for 1 hour longer.

17. Transfer the cake to a rack and let cook to room temperature.
Cover and refrigerate overnight before serving.



White Chocolate Cranberry Cookies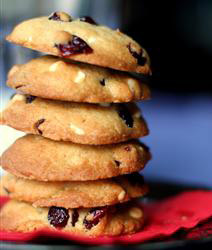 The white chocolate in this cranberry recipe adds a touch of decadence.
INGREDIENTS:
* 1/2 cup butter, softened
* 1/2 cup packed brown sugar
* 1/2 cup white sugar
* 1 egg
* 1 tablespoon vanilla or brandy
* 1 1/2 cups all-purpose flour
* 1/2 teaspoon baking soda
* 3/4 cup white chocolate chips
* 1 cup dried cranberries


PREPARATION:
1. Preheat oven to 375 degrees F (190 degrees C). Grease cookie sheets.

2. In a large bowl, cream together the butter, brown sugar, and white sugar until smooth. Beat in the egg and brandy.

3. Combine the flour and baking soda; stir into the sugar mixture. Mix in the white chocolate chips and cranberries.

4. Drop by heaping spoonfuls onto prepared cookie sheets.

5. Bake for 8 to 10 minutes in the preheated oven.
For best results, take them out while they are still doughy. Allow cookies to cool for 1 minute on the cookie sheets before transferring to wire racks to cool completely.



Cranberry Jam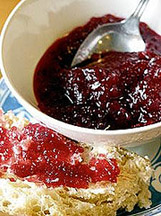 This cranberry recipe has a nice tart taste. Adjust sugar for preferred sweetness.
INGREDIENTS:
* 1 bag fresh/frozen cranberries (3 1/2 cups)
* 1 cup sugar
* 1/2 cup fresh orange or lime juice
* 1 cup water


PREPARATION:
1. Bring all ingredients to a boil in a 2-quart heavy saucepan over moderate heat, stirring occasionally.
2. Reduce heat and simmer, uncovered, stirring occasionally, until slightly thickened, about 20 minutes (jam will continue to thicken as it cools).

3. Force jam through a fine-mesh sieve into a bowl, discarding skins and seeds. Cool, stirring occasionally.

4. Once cool, pour into jars.

Keep refrigerated



Return to Cape Cod Attractions from Cranberry Recipes

Return To Cape Cod Insider Home