Cape Cod Motels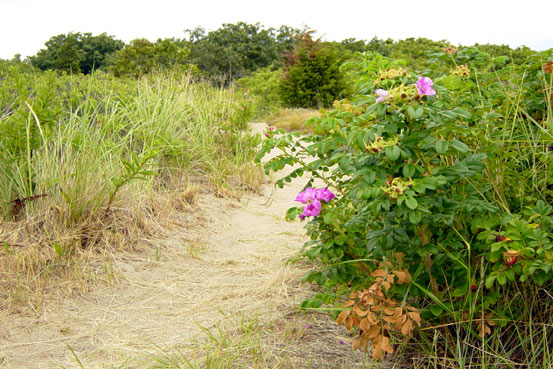 There are many Cape Cod motels from which to choose. Most vacationers will want to choose "a home base" close to where they will be enjoying their activities.


I have had the misfortune of sleeping in some "less than stellar" motels on Cape Cod over the years. As a result, I have a small list of places that I limit my stays to.


I'm sure there are many other fine Cape Cod motels however, these are the ones where I have stayed at on more than one occasion.


Keep in mind that the best time to visit Cape Cod (you read that page right?) are the shoulder seasons in spring and fall. Prices are cut in half and there will be vacancies.


Also, don't think you can just decide one weekend in the summer, to drive to the Cape on a last minute vacation. You will be hard pressed to find a room as vacancy rates are extremely low during this time.


So, here are my recommended picks for Cape Cod motels, listed by area:


UPPER CAPE MOTELS
Admiralty Inn & Suites:
The Admiralty Inn & Suites in Falmouth is a great Cape Cod vacation destination and is conveniently located only minutes from both Falmouth's busy downtown and its beautiful beaches.


This Cape Cod motel is also very convenient if you want to stay overnight before you catch an early morning ferry ride to the islands.


One of the reasons I really like this place is the free continental breakfast. That way, I don't have to go searching for somewhere that's open, to eat before the ferry ride.


If you just can't leave work behind, they have free high speed internet access.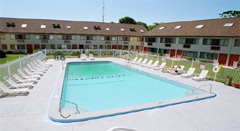 You'll also enjoy their outdoor pool (open in-season only) as well as the heated indoor pool with a whirlpool spa.The rates are reasonable so if you wanted to stay here for the duration of your vacation, it is affordable.
They are located at 51 Teaticket Highway, East Falmouth, MA 02536.
Phone 508-548-4240



The Earl of Sandwich Motel:
This is a family owned motel that is surrounded by 3 acres of lush grounds, flower beds and a very pretty duck pond. It is really peaceful having a nice cup of tea in the morning, sitting by the pond, watching the ducks.


They have a fire you can sit by at night, as well as a pool.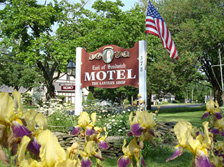 There are 24 comfortable and tidy rooms available and it almost feels like a B&B rather than a motel.

Another bonus is the WI-FI and refrigerators that are in every room.

A homemade continental breakfast is included in the room rate which is an added touch.
They are located at Old King's Highway, 378 Route 6A
East Sandwich, Massachusetts 025371-800-442-EARL or 508-888-1415



MID CAPE MOTELS
Since this is a bustling place, there are more Cape Cod motels here, than other areas on the Cape. Hyannis motels are usually pretty busy due to its being a commercial and business hub.


A lot of people also stay overnight before catching an early morning ferry to the islands.


Hyannis Holiday Motel:
This family owned and operated Hyannis motel, overlooks the picturesque Hyannis harbor and is conveniently located in the historic waterfront district.


They are within walking distance of many Hyannis tourist attractions including shopping, waterfront dining, sports, boating and beautiful sandy beaches.


Since they are right across the street from the Ocean Street docks, it is convenient to take a day trip to the islands on Hy-Line Cruise's Nantucket and Martha's Vineyard island ferries.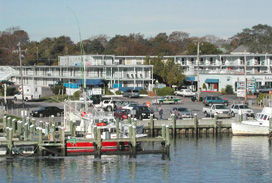 The accommodations are very clean and affordable but it's the location I like best.


They have an indoor and outdoor pool and WI-FI access. In the morning they have complimentary morning coffee, orange juice and pastry.


They are located at 131 Ocean Street, Hyannis, Cape Cod, Massachusetts 02601Tel: 508-775-1639 or 800-423-1551 (USA & Canada)


Super 8 West Yarmouth:
This West Yarmouth motel is a good place to stay on the cheap. It also helps that the rates at most motels are lower in Yarmouth, than on other areas of the Cape.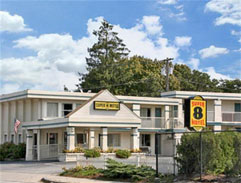 This is a bare bones motel but there is a complimentary continental breakfast, served daily, along with a pool in-season.


Since they are 1 mile from Hyannis Harbor, the location is convenient for island day trips.


They are located at 41 Route 28, West Yarmouth, MA 02673I recommend to book online for the best rates.



LOWER CAPE COD HOTELS
Chatham Seafarer Motel:
This family owned and operated Chatham motel is conveniently located along the Historic District in this pretty little town.


Usually it is expensive wherever you stay on this part of the Cape and the room rates reflect that reality.



They have a nice pool but it is only a short walk to the nearby beach. The rooms are immaculate and some even have nice hardwood floors.
They also have efficiency units which are larger rooms that have a cooking area. This is a good idea because it will save you money from eating out every night.
They are located at 2079 Main StreetChatham, Cape Cod, Massachusetts 02633-1020(508) 432-1739 or Toll-free Reservations: (800)786-2772


The Cutty Sark:
This Harwich motel is just across the road from Raycroft Beach but you can also get a great tan on their deck around the pool.


They are close to a golf course, as well as nearby fishing charters.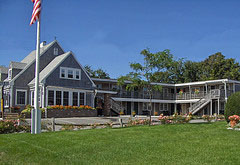 They even have wireless internet and refrigerators and microwaves in every room. This saves you money on eating out every night!The rooms seem to have been updated and they are immaculate.
They are located at 396 Old Wharf Road, Dennisport, MA 02639(508) 398-9116



OUTER CAPE COD MOTELS
By far, I have spent the vast majority of my time on the Outer Cape when I visit. So much so, that it feels like a second home.

Mid-Way Motel and Cottages:
Owner Sally Knisely has greeted us many, many times at this favourite Outer Cape Cod motel.She is so nice--she even entertained us in her home one night.


It is an older place but she has managed to keep the motel in great shape. Behind this Cape Cod motel, there is a nice little forest that connects to the Cape Cod Rail Trail.

For some reason, I have seen tons of great birds at this Cape Cod motel like warblers, orioles, and even owls and hawks. One year I even put a feeder up on the lawn.


She also has efficiency rooms which is where we stay most of the time (if the cottage is already booked).


The location is perfect. It's about 5 minutes to Coast Guard Beach, and about 8-10 minutes to Orleans where we do our grocery shopping.


They are located on Route 6 in Eastham, just before Wellfleet town line.Phone: (508) 255-3117 or Toll-Free: 800-755-3117



The Blue Dolphin Inn:
This affordable Eastham motel has the largest outdoor pool and sundeck on the Lower Cape and is located right beside my favourite breakfast spot on Cape Cod (Laura and Tony's Kitchen).


The motel is nestled in the pines on a huge 6 acre lot in the heart of the Cape Cod National Seashore, just moments away from ocean, bay and freshwater beaches.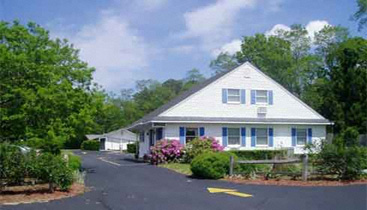 Since it is near the CCNS beaches, it is a great location for us to stay. They are also right near the Cape Cod Rail Trail for biking or birdwatching which is a good bonus.


They always have great sightseeing or dinner packages available so ask about them too.


They are located right on Route 6, just before you reach the Wellfleet town line.
Call Toll Free 1-800-654-0504 or (508)255-1159


Wellfleet Motel:
This Cape Cod motel is one of the more popular due to its close proximity to the rustic National Seashore beaches but away from all the hustle and bustle of Hyannis and Yarmouth.

Most guests are repeat visitors here because they love the great rates on, or off season.


The property has a spacious picnic area that is equipped with gas barbecue grills.


They also have both an indoor, and outdoor pool and are in close proximity to some golf courses.
The amenities are too many to mention but the rooms are very clean and comfortable.
They are located at 170 Route 6 South Wellfleet, MA 02663(508) 349-3535 or (800) 852-2900



Dyer's Beach House:
This Provincetown motel has private entrances and all rooms are on the beach (P-Town Harbor). You will see panoramic views of Provincetown harbor from the privacy of an ocean side deck and be able to smell fresh, salty air while you sleep.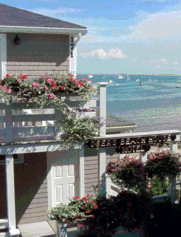 They are centrally located on busy Commercial Street so you don't need your car. They also have free WI-FI and fridges--bonus!

After a night on the town, it's good not to have to drive anywhere.

They are located at 173 Commercial Street, Provincetown, MA
508-487-2061






Return to Cape Cod Lodging from Cape Cod Motels

Return To Cape Cod Insider Home