Cape Cod Cottage Rentals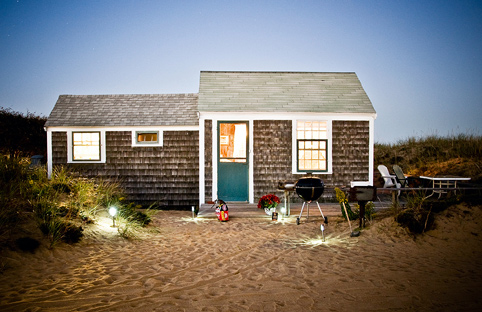 Cape Cod cottage rentals are a favourite form of lodging for my family. It's like coming home to your own little house.


There's nothing like driving back from the beach at the end of a long day of surfing and sunning, covered in salt and a new tan, and pulling up to your own little oasis.


Enjoying a refreshing cold one, you sit at your picnic table, soaking up the last of the day's UVs and reflect on your perfect day.


Most cottages have BBQs so now would be a good time to start prepping a nice thick rib eye and maybe some seafood as well.


Cooking outdoors while on vacation seems to add extra flavour to no matter what dish you are making.


Here are some of my recommended Cape Cod cottage rentals:



OUTER CAPE COD COTTAGE RENTALS


Surf Side Cottages:
These Wellfleet cottages are scattered along the sand dunes and fragrant pines of the Cape Cod National Seashore. Most cottages are just steps away from the top of the sand dune that leads down to LeCount Hollow Beach at Maguire's Landing and the Atlantic Ocean so no need to drive your car to the beach.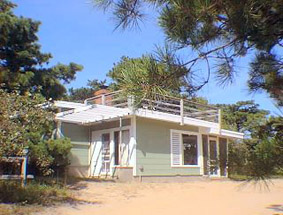 They have several sizes of cottages in this great location, ranging from 1 to 3 bedrooms. You bring your own bedding and towels but each cottage is equipped with: blankets, pillows, bedspreads, dishes, utensils, coffee maker, toaster, stove, refrigerator, microwave, charcoal barbecue and outdoor picnic table.


The cottages also have a telephone, fireplace, gas heat and a screened porch. There are no televisions or air conditioners.


To get there: turn onto LeCount Hollow road in South Wellfleet and drive until you reach the beach parking lot at Ocean View Drive. Turn left onto Ocean View Drive and you will immediately be among Surfside Cottages.
Phone: 508-349-3959



Kalmar Village Cottages:
These Cape Cod cottage rentals are part of a family resort, which also include efficiency units and motel rooms at the shore of beautiful Cape Cod Bay in Truro.


Much of the village is grouped around lush green landscaped lawns which give way to a private sandy beach on the southerly side and breathtaking views of the National Seashore sand dunes to the north.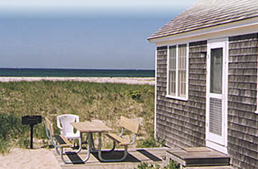 They have a swimming pool, picnic tables, lounge chairs, grills, a coin operated laundromat, and WiFi access.
To get there: Follow Rt. 6 toward Provincetown. After entering Truro, continue on Rt. 6 for 8.1 miles. Take a left at the "Beachpoint, Rt 6A" sign and then turn right ontoRt. 6A. Kalmar Village is 1.5 miles up on the left side.
Phone (508) 487-0585



Four Gables Cottages:
These Cape Cod cottage rentals are in a Provincetown neighborhood away from the noise and traffic but still convenient to everything.


They are gay owned and pet and family friendly. You can walk to town and enjoy the shopping, restaurants, bars and never-ending street show or sit on the veranda and enjoy peace and quiet in newly renovated 1940's style Cape Cod cottages. Their cozy fireplaces make this the perfect getaway anytime during the year.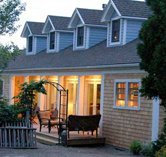 Each unit is equipped with modern amenities including; private telephone, television, VCR, cable, microwave, gas stoves, refrigerators, blender, toaster and DVD - CD player.

They are open year-round except from January to February 14th.
To get there: From Bradford Street, pass Town Hall, heading west toward Herring Cove Beach. Pass 'Shankpainter Road' on your right. Turn Right onto 'Pleasant Street'. Proceed down 'Pleasant Street', taking the second left onto 'Race Road'. They are located at 15 Race Road Provincetown MA.
Phone: (866)487-2427



MID CAPE COD COTTAGE RENTALS


Seaside Cottages:
Seaside is a beach resort featuring self catering/efficiency Cape Cod cottage rentals.
These Yarmouth cottages are right on a private beach, overlooking the Atlantic Ocean's Nantucket Sound. This huge five acre cottage colony is peaceful and very pretty.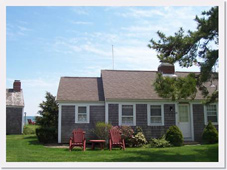 The cottages sleep anywhere between 2-6 people and have color cable television along with basic cooking utensils and flatware. Linens and towels are also provided but not beach towels.
To get there: From Route 28 in Yarmouth, turn onto Sea View Avenue and continue to South Shore Drive. Seaside office is a quarter mile down on the left. They're located at 135 South Shore Drive in Yarmouth MA.
Phone: (508) 398-2533



The Breakwaters Cottages:
All of these charming, weathered-gray Hyannis cottages are nestled between Nantucket Sound to the west, and their nearby private pool.


You will enjoy watching the sailboats dotting the bay in front of the property and the nearby Hyannis Yacht Club. You can BBQ outside, surrounded by the scent of the pine trees and the clean salt air.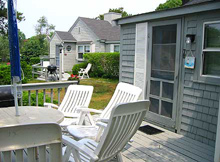 All units come with the conveniences of home including a fully equipped kitchen with utensils.


To get there: Take Rte. 6 to Rte. 132 (Hyannis exit). Turn right on Rte. 132; right again at the Cape Codder Hotel onto Bearse's Way; continue through to Main St. and turn right.At first light, Sea St., take a left and follow straight for one mile. They are located at Sea Street Beach in Hyannis MA
Phone: (508) 775-6831



LOWER CAPE COD COTTAGE RENTALS
Chatham Seaside Cottages:
These Cape Cod cottage rentals are located in Chatham. On over two acres of shorefront, "Seadaisy" and "Bayberry" Cottages at Ridgevale Beach face the temperate waters of Nantucket Sound.


They are ideally situated at the mouth of Buck's Creek, a beautiful tidal estuary offering great swimming, boating, and shellfishing, as well as spectacular views.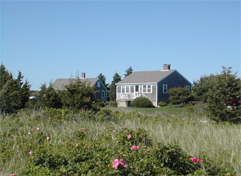 Each cottage is heated, and comfortably furnished with a fireplace, living room, full kitchen, two bedrooms, and bath. Cable TV, VCR, telephone, and outdoor gas grills are also provided. In addition, each cottage has a private outdoor shower, great for removing sand from your body after a day on the beach.
To get there: Take Exit 11 off Route 6. (Rt. 137). Upon exiting off ramp, go left on Rt. 137 and follow approximately 3 miles, crossing over Rt. 39. Stay on Rt. 137 to end, where you must go right or left on Rt. 28. Go left, and follow to third right, which is Ridgevale Road. Go to the end of Ridgevale, through the beach parking area. You'll see them on the left, beyond the picket fence. They are located at 439 Ridgevale Rd.Chatham, MA.
Phone: 508-237-2601


Return To Cape Cod Lodging from Cape Cod Cottage Rentals

Return To Cape Cod Insider Home