Race Point Lighthouse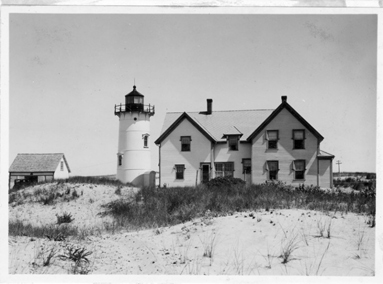 The Race Point Lighthouse is located in the dunes on the very tip of Provincetown on Cape Cod.


As far back as 1808, residents of Provincetown demanded a lighthouse at Race Point. Travel was perilous for vessels navigating the sand bars near Race Point at Cape Cod's northern tip.


Race Point Light first shone it's beam on November 5, 1816. The rubblestone tower's light was 25 feet above sea level, and was one of the earliest rotating lights - in an attempt to make it different from other lighthouses on Cape Cod.


In 1840, the Keeper's house was built. In 1852 a fog bell was installed at Race Point and three years later, a fourth order Fresnel lens was installed in the tower.


In 1873, a steam-driven fog signal (located in a new building) replaced the bell. A second Keeper's house was built in 1876.


By 1876, the old stone tower needed rebuilding, and was replaced by a 45-foot cast-iron lighthouse, made from brick. The Fresnel lens was also installed. The original Keeper's house was demolished and a new house was constructed. A water cistern was then added in 1877.


Three Keepers and their families lived at the Race Point lighthouse in the two separate Keeper's houses. The children walked for three miles over the sand every day to get to school.


In 1957, Race Point Light was finally made electric. Three years later, the 1874-Gothic Revival Keeper's house was torn down, and the other house was re-modeled. The light was automated in 1972. The Fresnel lens was replaced by a 190mm optic, and in 1994 the beacon and fog signal became solar-powered.


The Keeper's house remained boarded up for more than 20 years after the Coast Guard left and in 2003 became solar powered as well.


In 1995, the Keeper's house and nearby property was leased to the New England Lighthouse Foundation and a company called International Chimney rebuilt the roof and chimney of the Keeper's house. Volunteers finished the renovations, and the four-bedroom Keeper's house then opened for overnight stays.


A mysterious event was reported in 1996. An American flag appeared on a flag pole, put there by unknown persons. After a huge storm, the flag was ripped to shreds but then a new flag suddenly appeared. The flag is now flown throughout the season, welcoming guests as they arrive at Race Point.


Today, the Race Point Light optic is still helping with safe navigation and is maintained by the Coast Guard. The Cape Cod Chapter of the American Lighthouse Foundation maintains all of the structures and grounds.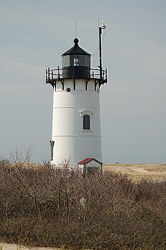 The Race Point Lighthouse Station will be open for anyone to tour the lighthouse on the first and third Saturdays from June until October in 2009.
The lighthouse will be open from 10:00am to 2:00pm.
You can get to the lighthouse by walking or your own four-wheel drive vehicle (with the proper permit):

June 6 and 20
July 4 and 18
August 1 and 15
September 5 and 19
October 3




Return to Cape Cod Lighthouses from Race Point Lighthouse page.

Return To Cape Cod Insider Home