Nobska Light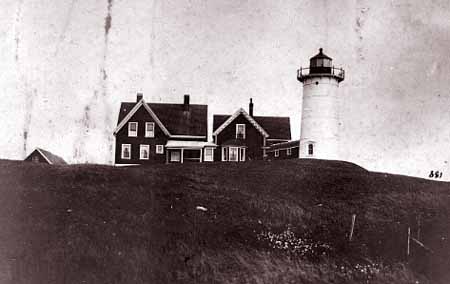 Nobska Light (also known as Nobska Point Light), is a lighthouse located between Buzzards Bay and Vineyard Sound, on the southwestern tip of Cape Cod.


One of the most photographed lighthouses in America, Nobska Lighthouse in Falmouth's Village of Woods Hole, overlooks the island of Martha's Vineyard.


It was originally built in 1828 to guide mariners away from the offshore Hedge Fence and L'Hommedieu Shoals. After the original tower showed signs of water leakage, a new tower was built in 1876. These are the current 42-ft. tower, keeper's quarters and oil house that you see today.


Nowadays, the lighthouse serves as the home for the Group Commander of the Woods Hole Coast Guard Base and is maintained by the Coast Guard.


The U.S. Coast Guard took over the light in 1939 and the original 4th order Fresnel lens is still utilized, but was automated in 1985.


A 250 watt halogen bulb was installed in early 2001 and later replaced a 1,000 watt tungsten bulb. There are 4 bulbs in this fully automated lighthouse.


If the vertical bulb burns out, the mechanism rotates 90 degrees and another bulb immediately takes over, flashing once every 6 seconds. If the electricity should go out, a battery operated strobe on the outside railing, takes over until power has returned.


A piece of red glass was placed inside one of the windows to warn mariners about the dangerous shoals, southeast of the light. The width of the glass was cut to exact dimensions to emit a red light over a 26 degree arc to encompass these shoals.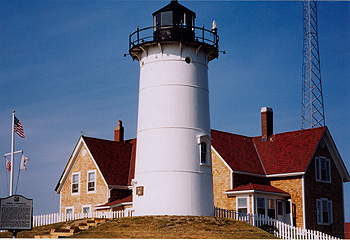 Falmouth is also very well known for the annual Falmouth Road Race which started in 1973. The event has grown from 100 local runners to over 10,000 American and international runners every year. For this years date and race info, visit The Falmouth Road Race Website.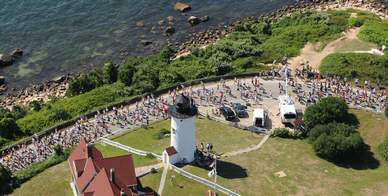 The light is occasionally opened to the public, so check with the Falmouth Chamber of Commerce.


Getting there:
Turn off route 28 in Falmouth south, onto West Street. That road becomes Woods Hole Road. Turn right onto Locust Street. At Church Street, bear left. Follow, veering right onto Nobska Road. You will see the antenna for the Nobska lighthouse a little ways down the road.



For a great scenic drive, take Surf Drive from South Falmouth, along the ocean. There are several beaches to stop at and really nice homes. Veer left off Surf Drive, onto Oyster Pond Road and then left on Fay Road. This route will take you to the lighthouse as well.
Return to Cape Cod Lighthouses from Nobska Light

Return To Cape Cod Insider Home