Long Point Light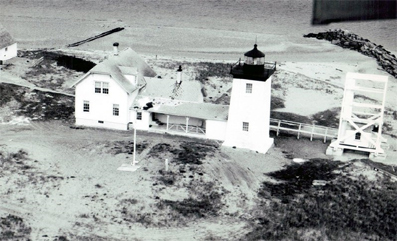 Long Point Light is located in Provincetown at the very fingertip of Cape Cod. It was first visited in 1620 by the Pilgrims after they entered Provincetown Harbor.


A settlement began at Long Point in 1818, reaching its peak in the 1850s with over 200 people. As Provincetown became a major fishing port, it was realized that a lighthouse at Long Point would greatly aid mariners entering the town's harbor.


The first lighthouse was completed in 1826. It was very primitive, as it consisted of a lantern on top of the keeper's house. Nonetheless, it was visible for 13 miles out to sea.


The lantern at that time contained ten lamps and reflectors. One lamp had uselessly faced the door of the lantern for 18 years, costing the government $900 in oil.


The wooden housing was constructed on piles in the sand and was surrounded by a barrier built of spruce logs and sand, giving it some protection from the heavy surf. There was also an additional breakwater made from 1,800 tons of stone.


The Long Point light's keeper Charles Derby (who was the first keeper) was still keeper in 1843. He complained that even though he had a boat, there was no boathouse or landing place.


In its mid-nineteenth-century heyday, Long Point had a schoolhouse with 60 students and a sea salt industry, with windmills used to pump seawater into large vats.


The settlement at Long Point began to shrink around 1850, and by the Civil War there were few residents left.



As you walk around the West End of Provincetown, you begin to notice little blue plaques (like the one in the photo below) on some of the homes. These mark homes that at some point were located on Long Point, at the far end of the spit of sand that curves around the harbor. They once stood near where the Long Point lighthouse stands today. Many of the houses at Long Point were floated across the harbor to Provincetown's West End. These houses are marked today by these plaques.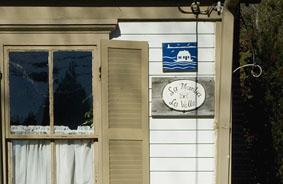 Plaques on houses in Provincetown mark that the home was "floated" across the harbor to its present location.







The salt works that brought settlers to this remote location were no longer economically viable so the settlers floated their homes across the bay and settled them into positions on the mainland.


During the Civil War, a Confederate warship was seen near Provincetown. Preparing for a possible attack, two forts were built at Long Point near the lighthouse. Local residents nicknamed them "Fort Useless" and "Fort Ridiculous." No shots were ever fired in the area near Long Point.


Long Point Light was fitted with a sixth-order Fresnel lens in 1856. In 1873, an inspector reported that "a new dwelling is a necessity... the entire structure is in danger of being carried off by a heavy storm." $13,000 was then freed up for a new tower, keeper's house and fog signal.


A new 38-foot brick lighthouse and a 1.5-story keeper's house were built in 1875, along with a new 1,200 pound fog bell. The lantern held a fifth-order Fresnel lens showing a fixed white light. An oil house was added in 1904.


In 1933, during one of the frequent thick fogs in the area, the device that rang the station's fog bell broke down. Keeper Thomas L. Chase rang the bell by hand for over nine hours straight, tugging the rope every 30 seconds. He would then take a nap and start again, repeating this cycle until the fog had thinned out.


Long Point Light was automated in 1952 and the Fresnel lens was replaced by a modern optic. In 1982 solar panels were installed. The keeper's house and fog signal building were destroyed, but Long Point Light remains an active aid to navigation.


The Cape Cod Chapter of the American Lighthouse Foundation has been licensed by the Coast Guard to restore and maintain Long Point Light.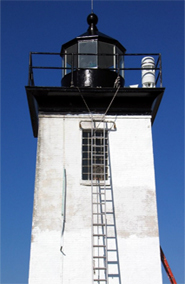 You can see Long Point Light distantly from MacMillan Wharf in Provincetown and you can walk there over a breakwater to Wood End at low tide, but the lighthouse is viewed much more easily by boat.

A company called Flyer's also runs a seasonal shuttle boat from Provincetown's waterfront to Long Point. The shuttle lets you off a short distance from the lighthouse.








Return To Cape Cod Lighthouses from Long Point Light page

Return To Cape Cod Insider Home