Highland Light
The Highland Light, (also referred to as Cape Cod Light) is located on the Cape Cod National Seashore near the town of Truro, Massachusetts. It is a working lighthouse situated on the Highland Golf Course.

The grounds are open year round but the lighthouse is only open to the public from May until late October with guided tours. It is owned by the National Park Service and cared for by the Highland Museum and Lighthouse Inc., on behalf of the United States Coast Guard who run the actual light.


In 1797, a station authorized by George Washington was established at this point on the Cape, with a light to warn shipping about the dangerous coastline between Cape Ann and Nantucket.


In 1857 the lighthouse was declared dangerous and demolished and a new one was built. Along with the lighthouse, there were a keepers' building and a generator shed, both of which can still be seen today.


The new lighthouse was fitted with a first order Fresnel lens which was in turn replaced by a larger first order lens in 1901. In 1932, the lamp was upgraded to a 1000 watt one. Lateron, further upgrades replaced the lamp by two areobeacons, each containing a 1000 watt lamp and a back-up lamp, then in 1998 the areobeacons were replaced by 110 watt beacons.


The lighthouse today, is not located where it was originally built. This is due to progressive erosion of the nearby cliff. Like many Cape Cod Lighthouses, the whole structure was moved back 570 feet (175m) from the cliff edge.


When the first lighthouse was built in 1797, it was over 500 feet from the edge of the 125 foot cliff. The cliff continued to erode at a rate of at least three feet a year until, by the early 1990s, the present lighthouse stood just over a hundred feet from the edge. In 1990 alone 40 feet were lost just north of the lighthouse.


The move was carried out by International Chimney Corp. of Buffalo NY and Expert House Movers of Maryland over a period of 18 days in July 1996.
This photo shows the "old hole" left after moving the lighthouse.
The foundation of the lighthouse was excavated and four levels of criss-crossing beams were inserted beneath the tower. The entire structure was then lifted with hydraulic jacks and mounted on rollers, then set on rails.
I was actually there for a few days and it was amazing!


Highland Light is easy to drive to (it's right off route 6 in Truro) but keep in mind that the signs say "Cape Cod Light." This new name became the official name in 1976, but to most Cape Codders, it is still referred to as Highland Light.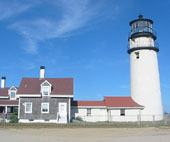 Highland Light is now operated by Highland Museum and Lighthouse Inc., under a National Park Service Concession contract. The lighthouse is open daily, mid-May through October.
Return To Cape Cod Lighthouses from Highland Light page.

Return To Cape Cod Insider Home